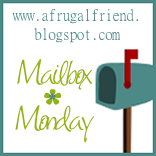 My mailbox was full this week! Here's what I received:
Eucerin Hand Lotion sample with $1.00/1
Jergens Natural Glow Moisturizer sample with $1.00/1
True Delights by Quaker with $1.00/1
Cottenelle Toilet Paper sample $1.00/12 pack
Cottenelle Fresh Flushable Moist Wipes with $0.50/1
Old Spice High Endurance Body Wash with $1.00/1
Poise Liner
California 2009 Official State Visitor's Guide
Conde Nast Traveler Magazine
What a great week! I love the free health samples, especially since we are taking a trip to
California
in June! How's your mailbox this week?